Getting Started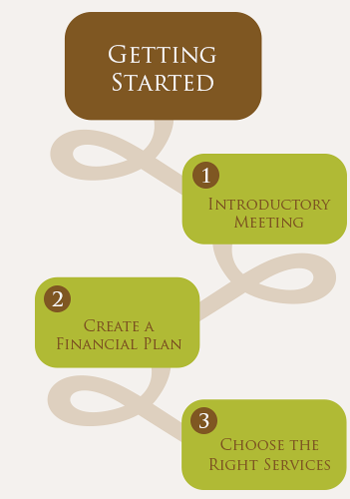 We believe that holistic planning is critical to reaching your goals, and that true financial planning should involve much more than just investment advice. Financial planning also includes retirement, tax, estate, insurance, transition, cash flow, budgeting, education and investment management.
Investment management on its own is not financial planning but only a small part of the overall planning puzzle. Most firms only want to provide investment management. When you work with Brown Wealth Management, you benefit from a more comprehensive approach.
Interested in learning more about how Brown Wealth Management works? We walk through the following process with those who are considering our services:
Step 1: Introductory Meeting
We start by sending you our Confidential Profile. We ask that you complete and return this profile so that we can better understand your current situation and your financial goals and objectives. After receiving your Confidential Profile, we invite you to an introductory meeting—at no cost to you.
In this meeting we will:
Complete your Financial Roadmap to help us understand your purpose, goals and current financial situation
Complete a cost/benefit analysis to determine if we can save you more than our fee
Determine the best services for you
Provide you with a quote for the services that are right for you
Answer any questions you may have
For all introductory meetings, we require that each financial decision maker be present. Introductory meetings are held at our Eden Prairie location or via web conference. We also ask that you bring the following financial information for review:
Tax returns for the last two years
Investment and retirement account statements
Brokerage statements
Social Security statements
Pension plan investment options and statements
Variable life insurance investment options and statements
Other insurance information documents (non-variable life, disability, long-term care, auto, home and umbrella)
Estate planning documents
Any other financial information that you would like us to review
Step 2: We Create a Financial Plan
If you like what you hear during the introductory meeting, our next step is to create your personal financial plan. The financial plan involves a detailed examination of your overall financial health.
Step 3: We Help You Implement Your Plan
Choosing someone to help you manage your wealth is a big decision. We will review our different service options with you and help you choose one that is right for you. We look forward to assisting you with your wealth management, investments, and all of your major decisions and transitions, while working in a mutually satisfying relationship.